Built by ELLE DECORATION and Furniture China organizer, the second season of "China Furniture Golden Idea Design Awards" has been successfully held in Shanghai Zhengda Himalayas Art Center on the evening of September 10th, and Peter Zec, the founder/ president of the Red Dot Design Award acts as jury president.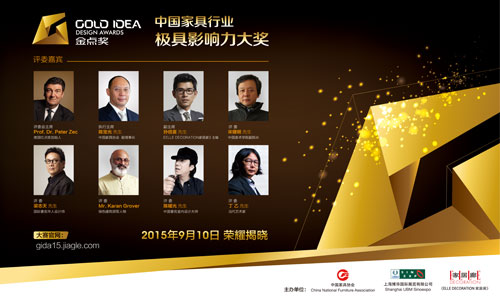 Jury lineup
President
Peter Zec
Founder / President of the German Red Dot Design Award
Executive President
Chen Baoguang
Vice president of China National Furniture Association / Chairman of Designing Work Committee
Vice President
Sun Xinxi
Chief Editor of ELLE DECORATION
Juries: Song Jianming, Liang Zhitian, Karan Grover, Chen Yaoguang and Ding Yi
Golden Idea Design Awards Organizing Committee Annual Gold Award: Jinan Youzai Group Furniture Co., Ltd (U+ )
Furniture and tea, are all for people's everyday use. I hope the relationship between furniture and tea is independent and complementary to each other, like snow and boat, whispering pine and tweedle. Like the paintings of the Song Dynasty, quiet, not noisy, endure pondering, appearing spirit. This year, in Shanghai, tea culture is on show. Brewing a perfect pot of tea with fresh spring water from Jinan, please sit with me and let us chat.

Golden Idea Design Awards Designer (Team) of the Year
Golden Idea Design Awards Winning Item
Ping Screen from Frank Chou Design Studio
Ping is a folding screen, according to different environmental needs, and then people can open it or choose to have the angle of the closure. In addition, this screen has beautiful fabric design, whether it brings a fresh feeling by a solid color or bump color, or changes in texture by difference of woven and printing, and will always be refreshing. And the fabric design with storage function makes its usage form more diversified. It is worth mentioning that the screen fabric is from Denmark, which has extraordinary color and texture, shows the design effect of advanced customization costumes and enjoys a very fashion sense.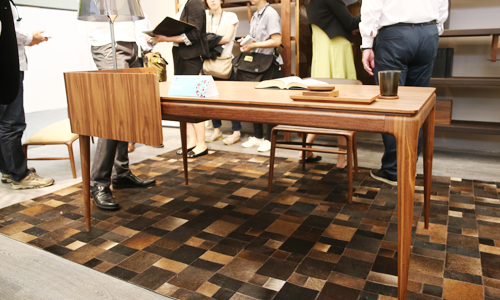 Hangzhou Sureeco Home Furnishing Co., Ltd.                Kerry Desk – Mexarts (Tianjin) Household Products Co., Ltd.
What makes this desk extraordinary is its accessory design. It rejects the traditional fixed drawer, but adds a flexible configuration on the drawer according to the habits of the guests by placing the drawer on the left or right, which strengthens the convenience, and breaks the traditional curing design. In addition, the desk is added wooden enclosure that could be chosen, so its select-configuration fully mobilizes master's freewheeling supplement desire. Seen from a distance, the delicate scroll temperament and flexible configuration of the desk make it a huge contrast with the dull complex traditional desk.
Pocket Fan from ROOY
Embodying a centralized reflection of poetic aesthetic of ancient China, Circular Fan becomes a culture symbol with its gentle graceful shape. The design inspiration of Pocket Fan comes from elegant traditional aesthetics. As the partition of space, taking advantage of semitransparent shading property of Circular Fan, this faintly discernible design conveys the implicit beauty of the Orient. Material: Solid Wood, Paper and Bamboo.
Golden Idea Legacy Award: QuMei Furniture Group Co., Ltd
China original household life brand. Advocate such a concept of life that cultivating the body and the spirit to realize self-perfection. Things of daily expenses stretch out from essential factors of living like "housing, substances, clothing and food". Products emphasize on convenient, practical, delicate, and moderate. Eventually a complete system of life has been built to transmit core values of "Neutralization" and distinct "China Style".
(* Resource from JJGLE)